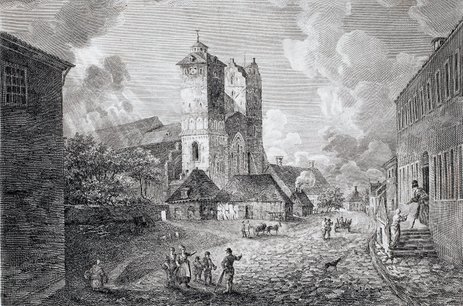 The Swedish Society for Eighteenth-Century Studies is proud to host the 2022 meeting of the Executive Committee of ISECS/SIEDS, The International Society for Eighteenth- Century Studies. The delegates will convene in Lund, 3–6 August 2022.
Day 1: Reception
Day 2: EC Meeting followed by dinner
Day 3: Conference: 'Media and Mediation in the Eighteenth-Century'
Day 4: Excursion to Copenhagen
The conference on Friday, 5 August, is open for all interested parties free of charge; no registration is required. Note that coffee and lunch is only pre-booked for ISECS delegates; outside guests will have to provide for their own meals.

Lund 1782, by Johan Fredrik Martin.
EIGHTEENTH-CENTURY MEDIA AND MEDIATION
Joint Faculties of Humanities and Theology, LUX, Helgonavägen 3, C126

Friday 5 August 09:30–16:30
PROGRAM

SESSION 1. Chair: Annika Windahl-Pontén
09:30–09:45 Welcome and introduction
09:45–10:15 Jonas Nordin, Mediating Monarchy from Castle to Cottage in Eighteenth-Century Sweden
10:15–10:45 Ylva Haidenthaller, Mediating Printed Portraits in Eighteenth-Century Stockholm
10:45–11:00 PAUSE
SESSION 2. Chair: Johannes Ljungberg

11:00–11:30 Fokko Jan Dijksterhuis, Ways of Seeing. Conceptions of Visuality in Enlightenment Philosophy
11:40–12:10 Brycchan Carey, Personal Letters: Public Science: The Rise of the Media-Savvy Eighteenth-Century Naturalist
12:10–13:10 LUNCH
SESSION 3. Chair: Brita Planck
13:10–13:40 Sophie Holm, The Diplomatic Dimension of Early-Modern Mediascapes
13:45–14:15 Matthew Grenby, Primer, Cartilla, Cathechism: Educational Cheap Print for Children and the Global Spread of Print
14:15–14:45 COFFEE BREAK
SESSION 4. Chair: Penelope J. Corfield
14:45–15:15 Maria Isabel Limongi, Les symboles de L'État dans le Leviathan de Thomas Hobbes
15:20–15:50 Antônio Carlos dos Santos, L'image de l'athée dans les entrées « athée » et « athéisme » de l'Encyclopédie
15:50–16:30 Concluding discussion: 'The Impact of Media and Mediation in the Eighteenth Century and Today'